How to dress when the weather turns (more) foul
A few weeks ago we learned about how to dress on those cool autumn days. Well, now we are nearly in November and, at least here in the NorthWest, winter is seemingly upon us. I always wait as long as possible before yanking my thermal jacket out of storage, but that time has come and the deed is done.
The thermal jacket has long been a mainstay in cycling. Formerly made of shiny, tight-but-stretchy polyester, often with an integrated speed skater-style hood and thumb loops, they now feature high collars, 2-way zippers, wind and waterproof fabric, reflective highlights and a nice fit that allows a layer or two underneath. Have a look at the photos below. On the left is the old style, while on the right the new: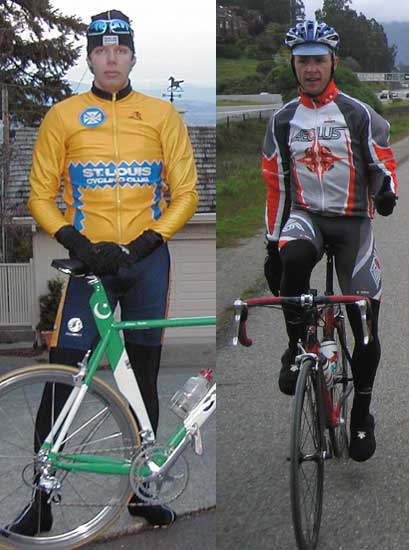 A good thermal jacket can work wonders for you in the winter. However, perhaps just as important is the tried and true concept of layering. Always start with a good, moisture-wicking base layer. By keeping that next to your skin, you will avoid feeling clammy, and soon afterwards cold, when you begin to sweat during those 2 x 20min FTP intervals your coach is giving you to do in January.
What you put between your base layer and your thermal jacket depends upon the weather you are heading out into. If it is windy, but not really too cold, maybe a base layer is all you need. If it is wet, windy and chilly, try adding a short sleeve jersey, a long sleeve jersey, or even both. What you choose will depend on how easily you get cold or heat up. The golden rule, though, is to always stay warmer than you think you need to be. If your body is spending energy keeping you warm, it's not spending that energy on training!
Last but certainly not least come accessories. Every girl loves these, but for cyclists in winter they are invaluable. If it is really cold, wear a thermal cap under your helmet. If it is not too cold, or if it is raining, wear a cycling cap under the helmet (again, see photo above). The cap will provide some warmth, but perhaps more importantly, will keep a lot of rain out of your eyes. Sunglasses (or clear glasses) will also help to keep your face warm and protect your eyes from that frosty wind.
Gloves are next on the list, and many riders keep several pairs to choose from. These are largely a personal choice, depending upon how sensitive your hands are. A lot of heat is lost from the wrists, so gloves with long wrist cuffs are always a good idea, as are ones with wind/waterproof fabrics.
Finally we come to the feet, often the parts that begin to freeze first. If you don't mind wearing thicker socks in winter, wool goes a very long way towards keeping your feet warm, even after they begin to sweat (because no matter how cold it is, they will). Over your shoes come a nice pair of thermal booties. There are many types on the market, but again, wind/waterproof with a bit of fleecy insulation works best. Make sure the cleat cut-out in the sole is no bigger than it needs to be, and that the zipper is stout and won't break mid-ride. How many times have you seen riders with their winter booties safety-pinned together? Ghetto! After that, it is important to make sure your leg warmers are long enough to reach into your booties. Exposed skin on the way down to your feet will only help make them cold and make you want to go home.
So, now you know how to dress for winter riding. If you have any questions, don't hesitate to ask!